Course details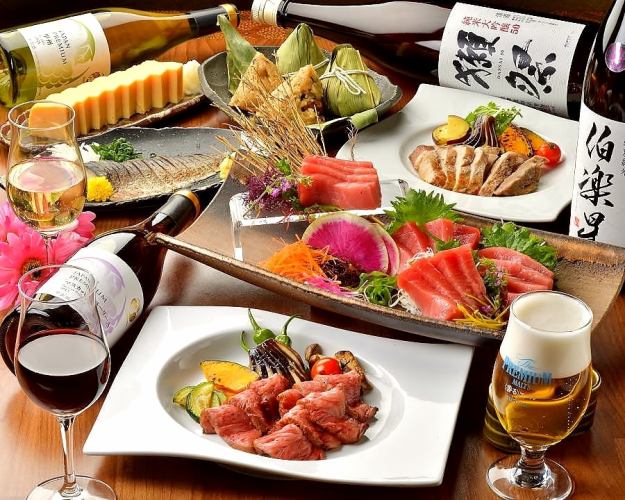 "Polar Course" ◇ Sendai beef, oversized dream oyster ◇ 9 items 150 minutes Premium (12 kinds of sake such as rice wine, rice festival 50, hakara star)
By using a coupon5000 Yen
5500 yen → 5000 yen with coupon usage (tax included)
9items

2

~

60persons

All-you-can-drink available

All you can drink for 150 minutes ☆ All you can drink more than 12 kinds of sake and more than 10 kinds of wine!
A5 rank "Sendai cattle" steak, Special L size "Dream Oyster" produced by Ishinomaki Ogaki, sashimi heap, thick bamboo chicken egg thickly baked, 9 kinds of dishes! All you can drink is extremely limited , Prestige <fragrant ale> "" over 10 kinds of wine "" 10 kinds of shochu "" cocktail 80 species "etc. with 120 kinds of luxurious drink all you can!
Menu
☆..: *: · '☆..: *: · '☆..: *: · '☆..: *: · '☆..: *: · '
[With earlier]
Appearance of commitment
- Seasonal small bowls that match sake -
[Appetizer]
Seasonal vegetable coloring salad
- Finished in dressing at all -
[sashimi]
Three kinds of raw fish sashimi
- Sashimi prime in season in direct morning market -
[gem]
Ishinomaki Oguchi dream oyster
- Large oyster with special L size! -
※ If you are not good at baking, you can change it to other dishes
[Strong Relishes]
Thick-baked bamboo chicken egg
- Bamboo chicken egg of Mr. Shiroishi "Bamboo Chicken Farm"
[pottery]
Grilled Miyagi brand pig JapanX
- Miyagi Zao brand raised with rich natural blessings -
[Fry]
Chicken scissors tempura
- Chicken tempura (Kashiwa heaven), Date with salt salt -
[Fragrance]
Homemade cucumber pickles
- Homemade Pickled Pickles -
[Meal]
Chimaki
- Chicken with pork -
※ There is the case that the content is changed by the purchase.Please note.
【Premium Course Limited! All-you-can-drink all-you-can-drink all-you-can-eat in 10 or more species】
<One example of one day>
"Tai-sake special net rice" "Good Kudo Jun US Daiginjo Miyama Nishiki 44" "Yuraku star special rice"
"Nippon Takami Dry Book Brewing" "Matsushima Special Net Rice Storage Liquor of Snow" "Dry Nozo Nozomi"
"Fugu Shiki Special Crucible Non-Filtered Raw Wine" "Luding Zhang Crane Shibori Fresh Raw Sake"
"Bakuren ginsei super spicy turtle's tail" "Now special rice"
"Iso-boasted different book-brewing" "Lucky net Junmai Daiginjo 50"
All 12 kinds of preparations were prepared on this day! Of course it is all you can drink.
We will contact you if you have any stocks you like! Please tell us when you make a reservation !!
All-you-can-drink menu
· Beer, wine, others
· Premium Malt <fragrant ale> barrel, molts barrel, more than 10 kinds of glass wine, sparkling wine, square bottle, jinbeam, jack daniel, maker's mark
· Shochu
· Tiger & Dragon (potato), Tiger & Dragon (potato), Tairy & Dragon (potato), Southern barley (wheat), Sato Wheat (barley), Wheat noodles (acerola, yuzu), Red Kirishima (potato), Black Kirishima ), Middle (Wheat), other daily changes
· Sawa -, Shochu High
· Oolong High, Green Tea High, Grapefruit, Lemon, Lime, Plum wine, Muscat, Orange, Tomato, Calpis, Mango, Collagen is also Sawa -, Collagen Yuzuawa -
· Plum wine, fruit wine
· Plum wine of Koshimasa, Tsurumemei ~ ripe ~, strawberry plum wine, honey plum wine, Ichinomi Himezumi plum wine, Tsurumemei yuzu, Fuyu grape wine, Fuwa tea wine, Apricot sake, Indigo tea wine, Chokai mountain foot yoghurt sake
·Cocktail
· About 60 kinds or more such as Karuamiruku, gin tonic, Moscow, Bulldog, Keira Sunrise, Cassis Orange, Reggae Punch, Mango Pine, Muscat Orange, etc.!
·Soft drink
· Various soft drinks, non-alcoholic cocktails are also available!
· Local sake
· Take sake special net rice (Aomori), Yuraku star special rice musical (Miyagi), Ryusen Junmai Daiginjo 50 (Yamaguchi) 【Others】 Ikumi Kikuu (Aomori), Mutsu Yasen (Aomori), Toyoru (Aomori) Ichiyoshi Crane (Yamagata), Aka Sakura (Yamagata), Ueyama mountain stream (Yamagata), Hidaka Tamimi (Miyagi), Hanboku 1 (Miyagi), Furuoshi Kita (Fukushima), Hsiao Zakura (Niigata) , Hakkaisan (Niigata), Black Dragon (Fukui), Iso boast (Shizuoka), and so on, and 12 kinds or more
Reservation deadline

Coming to the store until the desired date of the day 17
Available days for reservation

Monday - Sunday - Public holidays - Holidays
2018/10/08 update