Course details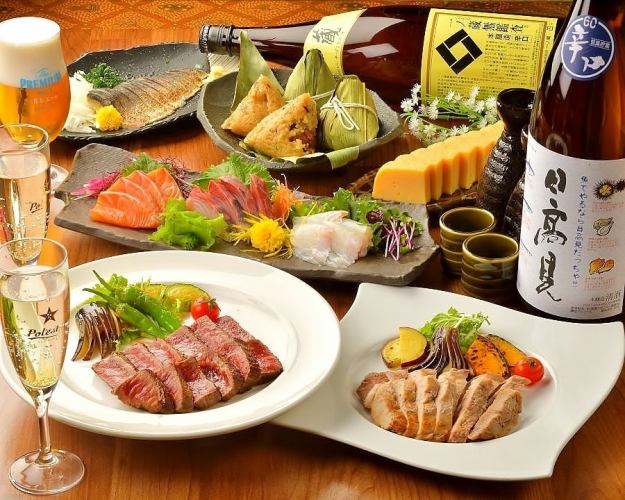 Celebration ☆ 16th anniversary "Ya course" ◇ Angus cow, JapanX pig, 獺 festival net rice big gruel OK ◇ 8 items 2 hour premium + 獺 祭
By using a coupon4000 yen
4500 yen → 4000 yen with coupon use (tax included)
8items

2

~

60persons

All-you-can-drink available

Premium Malts <fragrant premium>, 6 kinds of sake and 11 kinds of wine are OK! All-you-can-drink for 2 hours! ※ Over 500 kinds of Japanese sake at more than 12 kinds of sake! 「Tanaka」 「Hakusho star」 etc. will be added!
8 cuisine & premium malt <fragrant ale> such as soft and fine lean "Angus cow steak", local brand pig "Japan X grill", "tobu miso sauce break" etc., 6 kinds of local wine + All the 120 kinds of "premium drink on the menu" including OK wines, 11 kinds of wine + sparkling wine, authentic shochu (Yoshiko Baoshan, Sato Wheat etc), fruit wine are included! ※ 12 kinds of sake for + 500 yen " Sake "" Buraku star "etc. added
Menu
☆..: *: · '☆..: *: · '☆..: *: · '☆..: *: · '☆..: *: · '
<Example> (The food is also available on a daily basis)
[Appetizer]
Seasonal vegetable coloring salad
- Finished in dressing at all -
[sashimi]
Three bamboo groves
- Market direct delivery! Seasonal fish sashimi -
[pottery]
Grilled Miyagi brand Pork Japan X
- Miyagi Zao brand raised with rich natural blessings -
[gem]
Broiled mackerel of mackerel from Aomori
- Mackerel wrapped in fat in Aomori's sea Mackerel -
[Western dish]
Angus cow steak
- Soft and fine Angus cow! -
[Strong Relishes]
Thick-baked bamboo chicken egg
- Bamboo chicken egg of Mr. Shiroishi "Bamboo Chicken Farm"
[Fragrance]
Homemade cucumber pickles
- Homemade Pickled Pickles -
[Meal]
Chimaki
- Chicken with pork -
☆..: *: · '☆..: *: · '☆..: *: · '☆..: *: · '☆..: *: · '
※ There is the case that the content is changed by the purchase.
Please contact us for more details.
All-you-can-drink menu
· Beer, wine, others
· Premium Malt <fragrant ale>, 11 types of glass wine (5 red, 5 white, 1 rose and 1 sparkling wine), sangria, square bottle, Jinbeam, Jack Daniel, Maker's Mark
· Shochu
· Tiger & Dragon (potato), Tiger & Dragon (potato), Southern barley (potato), Sato wheat (wheat), middle grains (wheat), Midori (Acerola, Yuzu), Black Kirishima (potato), Red rabbits (potato) , Other daily changes
· Sawa -, Shochu High
· Oolong High, Green Tea High, Grapefruit, Lemon, Lime, Plum wine, Muscat, Orange, Tomato, Calpis, Mango, Collagen is also Sawa -, Collagen Yuzuawa -
· Plum wine, fruit wine
· Plum wine of Koshimasa, Tsurumemei ~ ripe ~, strawberry plum wine, honey plum wine, Ichinomi Himezumi plum wine, Tsurumemei yuzu, Fuyu grape wine, Fuwa tea wine, Apricot sake, Indigo tea wine, Chokai mountain foot yoghurt sake
·Cocktail
· About 60 kinds or more such as Karuamiruku, gin tonic, Moscow, Bulldog, Keira Sunrise, Cassis Orange, Reggae Punch, Mango Pine, Muscat Orange, etc.!
·Soft drink
· Various soft drinks, non-alcoholic cocktails are also available!
·Sake
· 6 to 7 kinds of daily changes such as Ichinose, Nichimen, Hikaru Ichi, Aki Sakura, Black Dragon, Tsang Zhang Crane etc. + Duration: limited to "Festival Junmai Daiginjo 50" Seasonal alcohol and so on are also available.Please let us know in advance if you have any stocks you would like! * More than 12 kinds with + 500 yen! "Tanaka" "Hakusakura" etc. will be added.
Reservation deadline

Coming to the store until the desired date of the day 17
2018/06/09 update